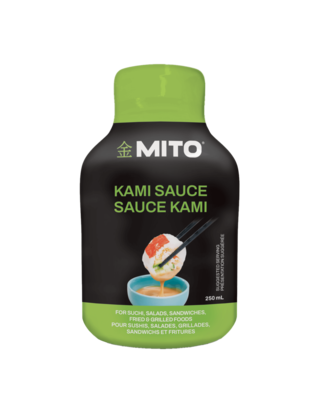 Kami Sauce – 250 ml
The perfect sauce to add a creamy and sweet taste to your sushi, grills, salads and veggies.
Vinegar, Benzoate de sodium, Modified corn starch, Mayonnaise, Chicken broth, Glucose-fructose, Disodium calcium EDTA, Soy sauce, Water, Sugar, Grounded ginger, potassium sorbate
Contains: Egg, Wheat or triticale, Soy, Mustard
May contain: Fish, Milk, Sesame
Shake before serving. / Refrigerate after opening.
Discover our complete range of Asian ingredients, available at certain IGAs across Quebec, and visit our blog for countless recipe ideas!
In our chefs' words
In our chefs' words
In our chefs' words
In our chefs' words
Stories from our chefs
Our Kami Sauce is one of our most popular product and it is exclusive to MITO. It's creamy texture and sweet taste pairs beautifully with sushi, salads and veggies.