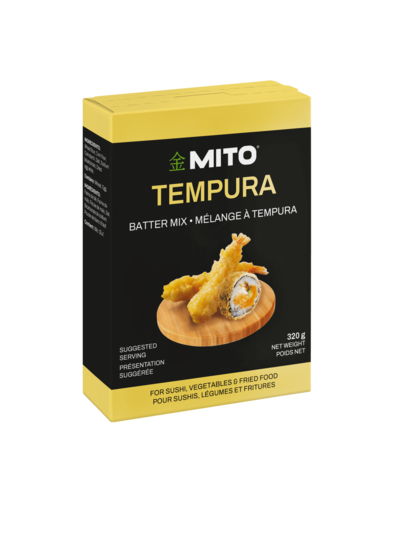 Ready-to-serve Tempura – 200 g
Sprinkle this ready-to-serve tempura on your salads or integrate this delicious product to any of your recipes for an added crunch. A MITO innovation.
Canola oil, Baking powder, Bleached enriched wheat flour, modified wheat starch, Pyrophosphate acide de sodium, Riboflavin, Tartrate de potassium
Keep dry.
Discover our complete range of Asian ingredients, available at certain IGAs across Quebec, and visit our blog for countless recipe ideas!
In our chefs' words
In our chefs' words
In our chefs' words
In our chefs' words
Stories from our chefs
Think about adding the ready-to-serve tempura to your sushi or tapas. You can also sprinkle it on salads or add it to your favorite tartar recipe to give a delicious taste and a crunchy texture !