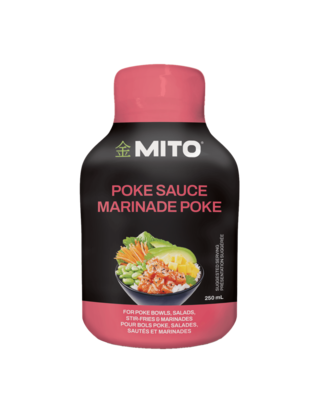 Poke bowl sauce (seasonal product)
Our poke sauce will give a creamy and slightly spicy flavor to your favorite poke bowls, vegetables and stir-fry dishes.
Natural shallot flavour, Sushi sauce, Vinegar preparation, Oleoresin paprika, Ginger, Korean spices, Pink pickled ginger, potassium sorbate, Rice vinegar, Modified corn starch
Contains: Wheat or triticale, Sesame, Soy
May contain: Milk, Egg
Keep refrigerated.
Discover our complete range of Asian ingredients, available at certain IGAs across Quebec, and visit our blog for countless recipe ideas!
In our chefs' words
In our chefs' words
In our chefs' words
In our chefs' words
Stories from our chefs
Our poke bowl sauce, exclusive to MITO, is a must have. Its creamy texture and slightly spicy taste are perfect for poke bowls, veggies and stir-fry.